Frequently Asked Questions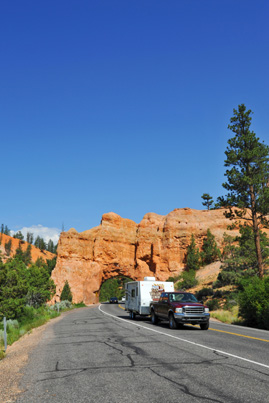 Do you allow pets?
In response to popular demand, we now have one pet-friendly unit, the Pa'rus Trail. We've named it for the only trail in Zion National Park which allows dogs. This pet-friendly policy applies to dogs only, limit of 2 and 25 lbs. or less and only to Pa'rus Trail in an RV resort which has full-hookups so that AC can be provided for your fur baby. An extra deposit and cleaning fee is required if you bring a pet. Zion River Resort provides a pet walking and check-in service which we highly recommend.
For all other units, we have adopted a No Pets policy. Note that the National park's pet policies are very restrictive. Your activity with your pet in the national parks will be limited. Example: no pets are allowed on trails, or the trams. National parks prohibit leaving your pet unattended in the campground or trailer all day. We also need to be sensitive to our customers who may be allergic to pets. For these reasons, absolutely no pets are allowed in the trailers. The security deposit will be kept if any evidence of pets is found.
What is included in my rental?
Every trailer is generously equipped with a full kitchen package at no extra charge. This includes standard pots, pans, kitchen utensils, dishes, flatware, cups, wine bottle opener, dish towels, and potholders. They also include a K-cup coffee maker, toaster, microwave and stovetop (all but The Grotto have ovens as well). Each has a refrigerator/freezer, kitchen sink and counter, AC, and furnace. The bathrooms have a shower, toilet, and sink. We provide and set up all the necessary electrical, water, and sewer hookups. We also provide you with basic cleaning supplies.
What do I need to bring?
We do offer linen packages which supply your bed and bath linens, please see the add-ons section of your reservation. If you choose to bring your own, you will want to consider sheets, pillows, blankets or sleeping bags. All of our beds come with mattress protectors which we launder after every trip. In general, we suggest bringing Ziplock bags, foil, cleaning wipes, bug spray, and a cooler (for extra food storage).
What are the check-in and check-out times?
Check-in between 1:00 pm and 6:00 pm.
Check out is between 8:00 am and 11:00 am.