Zion Trailer Rentals
Camping Trailer and RV rentals
Welcome to Zion Trailer Rentals 
We are a family owned and operated camping trailer and RV rental company located by Zion National Park in southern Utah. We have clean, sanitized and well-equipped camping trailers and RVs for your next adventure. We offer delivery service to campgrounds surrounding Zion National Park. We do the preparation, towing, and set-up for you. All you have to do is show up and enjoy the adventure. Whether you're brand new to camping or a seasoned veteran, a trailer or RV is a great way for you and your family to experience the outdoors.
Call us at (435) 275-4470 and reserve your camping trailer or RV rental today.
Your adventure starts here!
There's an adventure at every turn. If the outdoors is calling you, Zion National Park in southern Utah is where to go. Here are just a few of the amazing attractions that southern Utah has to offer.
Check out our blog posts to learn more about camping, hiking and everything else in Zion National Park. We will also post what's new and upcoming events.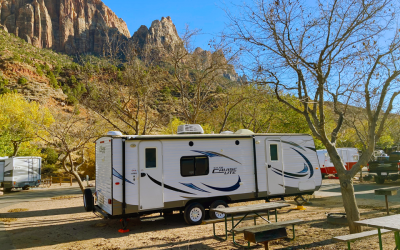 Camping trailer rentals and RV rentals is a great way to experience Zion National Park and the surrounding areas of southern Utah. Step out your front door to the sites and sounds of nature's most beautiful creation. We will deliver and set-up a fully loaded camper to...
read more