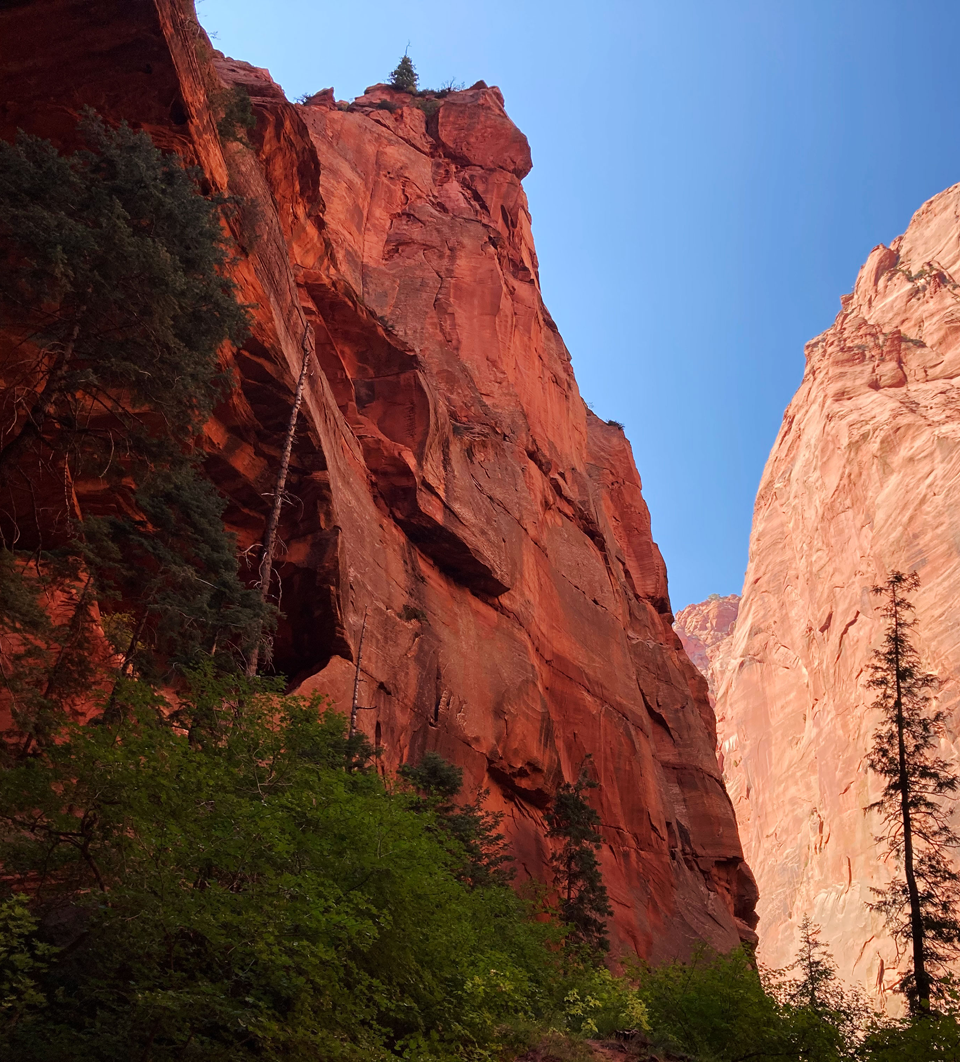 Should I book the Trailer first or the Campsite?
Zion National Park gets close to 5 million visitors a year, so the campgrounds do get full quickly. It's best to secure the campsite as early as possible (sometimes months in advance). We suggest you secure your campsite first and then call us to secure a trailer.
What is included in my rental?
Every trailer is generously equipped with a full kitchen package. This includes standard pots, pans, kitchen utensils, dishes, flatware, cups, wine bottle opener, dish towels, and potholders. They also include a K-cup coffee maker, K-cups, toaster, microwave and stovetop (all but Baby Bear trailers have ovens as well). Each has a refrigerator/freezer, kitchen sink and counter, AC, and furnace. The bathrooms have a shower, toilet, and sink. We provide and set up all the necessary electrical, water, and sewer hookups. We also provide you with basic cleaning supplies. As of January 1, 2022, we are now providing Linens for the main bedroom for free! We are also providing camp chairs and camp mat for free as well!
What do I need to bring?
We do offer linen packages which supply your bed and bath linens, please see the Upgrades section. If you choose to bring your own, you will want to consider sheets, pillows, blankets or sleeping bags. All of our beds come with mattress protectors which we launder and sanitize after every trip. In general, we suggest bringing Ziplock bags, foil, cleaning wipes, bug spray, and a cooler (for extra food storage). You should bring plenty of drinking water. We'll be happy to let you know where the closest grocery stores are located to your campsite.
What are the check-in and check-out times?
• Check-in between 1:00 pm and 6:00 pm.
• Check out is between 8:00 am and 10:00 am.
What are the check-in and check-out procedures?
We do require that renters meet us for check-in at the campsite to go over operation and important information about the trailer. When "checking in", we ask that the renters agree to a set time to meet with us at the campsite. Some days we have several deliveries, so we require renters to be prompt. We also realize travel hurdles do occur, so we allow a 30-minute window for unforeseen delays in traffic, etc. If a renter is more than 30 minutes late we will charge $50 per half hour. Please plan for this ahead of time, as these fees are non-negotiable.
We also require renters to meet us at the campsite for "check-out" to go over the trailer for damages, cleanliness, etc. You do have the option to "check-out" without meeting us, however, you need to let us know ahead of time. Most campsites have an 11 am check out, HOWEVER, we require our renters to be cleared out of the trailer by 10 am at the latest, to allow our drivers ample time to secure the trailer for transport. The campsites are very strict about trailers being mobile by 11 am. Again, renters delaying in checking-out will be charged $50 per half hour. Please plan ahead for this, as these fees are non-negotiable.
Before check-out…we ask that the trailers are swept, counters wiped down and toilets…free of debris (you know what we mean!) We do charge an excessive cleaning fee of $100.
Do you allow pets?
In response to popular demand, we now have one pet-friendly unit. This pet-friendly policy applies to dogs only, limit of 2 and 25 lbs. or less and only in an RV resort which has full-hookups so that AC can be provided for your pet. An extra deposit and cleaning fee is required if you bring a pet. Zion River Resort provides a pet walking and check-in service which we highly recommend.
For all other units, we have adopted a No Pets policy. Note that the National park's pet policies are very restrictive. Your activity with your pet in the national parks will be limited. Example: no pets are allowed on trails, or the trams. National parks prohibit leaving your pet unattended in the campground or trailer all day. We also need to be sensitive to our customers who may be allergic to pets. For these reasons, absolutely no pets are allowed in the other trailers. The security deposit will be kept if any evidence of pets is found.
What about Insurance?
You can purchase Interior Damage protection during your rental period. This covers any unforeseen damage. There is a $500 deductible. Your security deposit will be used as the deductible in the event that damage exceeds $500 or a total loss. If you decide not to purchase the insurance, you will be responsible for the total amount of damage. This information can be found in your contract.
How much is the security deposit?
The security deposit is $500. This will be returned within 5-7 days if there is no damage found. The initial $300 you pay to reserve is deducted from your total rental charge.
What if I want to extend my stay?
We are always happy to hear renters wanted to stay longer. If we don't have another reservation for the following day, then we will gladly extend your trip and we even give discounted rates. We ask that you give us as much advance notice as possible.
What is the refund policy?
You have a 48 hour grace period for a refund of the $300 down payment. After 48 hours it is non-refundable.
Do you offer long-term rentals?
Unfortunately, no. We service the tourism industry, so our rates are based on the market and our overhead to operate in this area and within the park. We cannot charge a "monthly" fee that equates to loss of revenue due to lower charges. That said, during the slow winter months, we would be open to rentals of 3-4 weeks in length depending on the location. Call us with any questions.
Do you offer any discounts?
Yes. We run specials all the time such as Early Bird discounts, Holiday specials and even seasonal discounts. Zion Trailer Rentals is also a proud supporter of our brave service men and women and all of our first responders…so we have discounts for them as well.
Are there any additional fees?
Yes, there is an additional fee of $150 for set-up. This is added to all trailer and RV reservations. This charge covers the ever increasing fuel, cleaning and operating costs, in addition to state permit fees and credit card processing fees. There is also 6.75% tax on reservation charges.